Media Release
Kapiti Food Fair
Kāpiti Food Fair 2023: Meet the social team behind the scenes
Kāpiti Coast, Wellington, New Zealand, 5 October 2023: The countdown is on – and you can bet that at the Kāpiti Food Fair HQ our team is buzzing with excitement! One thing you may not know is that it truly takes a village to make an event of this magnitude come together every year. You've met our co-owners Helene and Jeanine, and we always make sure we introduce our sponsors, vendors, and all of our entertainers, plus our amazing crew and volunteers get some love, too!
As the Kāpiti Food Fair draws near, there's a group of people we want to introduce who you've not met before. These individuals form the dynamic team responsible for keeping the excitement and anticipation alive on our social media channels and beyond. Together, under the leadership of Fair Co-owner Helene Judge, they make sure you stay connected with all things happening around the build-up to the Kāpiti Food Fair and the NEW Night Gig on Facebook, Instagram, TikTok, and more!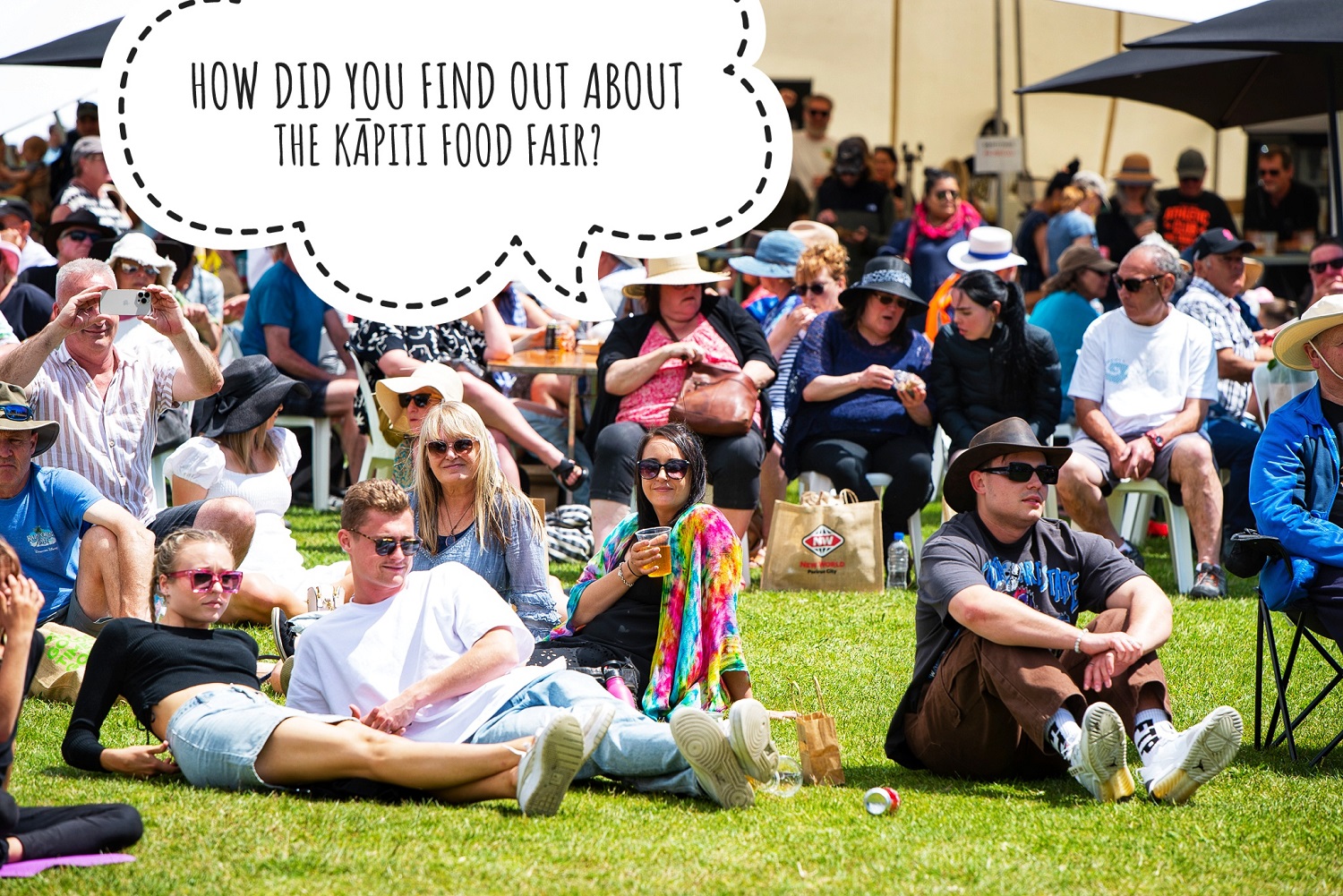 Anne Buttar spearheads the social media strategy, bringing a wealth of expertise to the table. Her role covers planning, creating, and curating captivating content for our use across all channels – Facebook, Instagram, and TikTok. She's also the person responsible for crafting our press releases and making sure we've ticked all the boxes we need. Anne's experience and creativity ensures that our social media feeds are a feast for the eyes (pun intended!) and that we're always sharing tantalising glimpses of what's in store for your big day out (and hopefully staying overnight too) on the Kāpiti Coast.
Louise Hinton is an invaluable multitasker who assists Helene with a wide range of important administration that keeps things ticking behind the scenes, while also playing a vital role in our online community engagement. She's on a mission to make sure that Kāpiti Food Fair's Facebook updates reach a diverse range of community groups around the region. Louise is also our vigilant guardian, monitoring comments and interactions across all platforms. Her knack for uncovering intriguing food and vendor stories enriches our Facebook page, turning it into a thriving hub, for which we're thankful.
Another strategic mastermind behind the scenes is Hanna Rauch who makes sure our social media content shines bright in all directions. Hanna leads our influencer outreach program, connecting the Fair with key personalities in the region who share our passion for everything food-related. Hanna is also leading our video content posts this year. She is busy creating exciting new videos and will be repurposing some of our TikTok videos and repositioning them for Instagram and Facebook reels and stories. By Hanna taking this approach it will allow us to share more exciting information to reach a wider audience!
When it comes time to keep the buzz and momentum going, Mex Bouzaid is the man with a plan who comes on board with a mission. Mex is usually working alongside Helene and Louise in the office, however he plays a crucial role starting in November. This is when he begins sharing website links about our entertainment programme, important visitor information, and reminding everyone to secure their tickets in the lead-up to the Fair. Mex's contributions keep the anticipation levels soaring as the event approaches.
Last, but most certainly not least, is Oli Corby from VIEWFULE, who is also a Silver Sponsor of the Fair. Oli knows everything about Google and is an 'Advertising Maestro' and is truly our unsung hero responsible for the eye-catching ads that grace Meta and Google. The other critical role he plays is being our GA4 expert where he glues our whole digital platform together including Humanitix, our chosen ticket platform, so we can measure, report and adapt as the campaign proceeds. His tireless efforts make sure our online presence extends far beyond social media, reaching a broader audience. With captivating ads and highly tuned analysis skills, Oli helps build excitement and anticipation for the Fair across the digital landscape.
"We're delighted to have attracted such talent to our social crew as we understand the power of being digitally connected with our followers and importantly attracting new visitors to embrace everything that is on offer at the Fair, and indeed in Kāpiti," says Helene.
"These talented individuals work in harmony," continued co-owner Jeanine van Kradenburg, "weaving a tapestry of online engagement that keeps the Kāpiti Food Fair alive in the hearts and minds of our community."
The other person that creates all of our marketing collateral is Jill Creighton of Creighton Design. "She brings our vision alive with beautiful creative yet informative materials that we are super proud to release during our campaign – Jill totally gets us, we love having her on our team, says Helene."
Make sure to find and join us on Facebook, Instagram, or TikTok. Stay updated and be a part of the excitement as we countdown to this year's Kāpiti Food Fair, and to an evening of epic proportions with the amazing fire-breathing country diva, Tami Neilson headlining our first ever Night Gig – an outdoor, family friendly concert rain or shine!
It's all happening this December on the Kāpiti Coast: Good FOOD, Good FRIENDS, Good TIMES, and GREAT MUSIC!!!
About:
Kāpiti Food Fair was established in 2008 as a community event with humble beginnings. Now privately owned and operated in a business partnership between Helene Judge and Jeanine van Kradenburg, the vision of the Fair is about making a lasting impression in the minds and bodies of all foodies.
While their mission is to bring visitors to Kāpiti for a fun, tasty and indulgent day out with GOOD friends, GOOD times, GOOD food and GOOD music, Helene and Jeanine also endeavour for Kāpiti Food Fair to be remembered as an iconic food and beverage pop-up extravaganza that sees visitors returning year after year.
Contact:
Helene Judge, 027 244 9585 or Jeanine van Kradenburg, 021 605 488, email contact >>