Media Release
Kapiti Food Fair
Kāpiti Food Fair 2023: Get ready for the We Love Local Kāpiti Kitchen Stage
Kāpiti Coast, Wellington, New Zealand, Thursday 12th October, 2023: With less than two months to go, the Kāpiti Food Fair team are well into preparation for another year of toe tapping, taste bud snapping good times! With the addition of this year's NEW Night Gig, it's 'fair' (pun intended!) to say that there's a lot on their to-do lists that need checking off.
"We're already looking forward to December and presenting an epic event for our community and our visitors," says Fair co-owner Helene Judge. "The Kāpiti Food Fair attracts more than 10,000+ local and nationwide visitors each year. Having a daytime event showcasing a selection of packaged and ready-to-eat foods, as well as hosting an array of artisan brews, spirits, liqueurs, ports and wines in our off-license Liquor Zone, is very exciting. There's plenty and something here for everyone!"
"This year, we're excited to have the We Love Local Kāpiti Kitchen Stage," shares Jeanine van Kradenburg, co-owner. "The stage is named to acknowledge one of our Silver Sponsors, We Love Local. The chefs will be doing cooking demonstrations, showcasing local talent and easy to prepare delicious summer meals will be on the menu."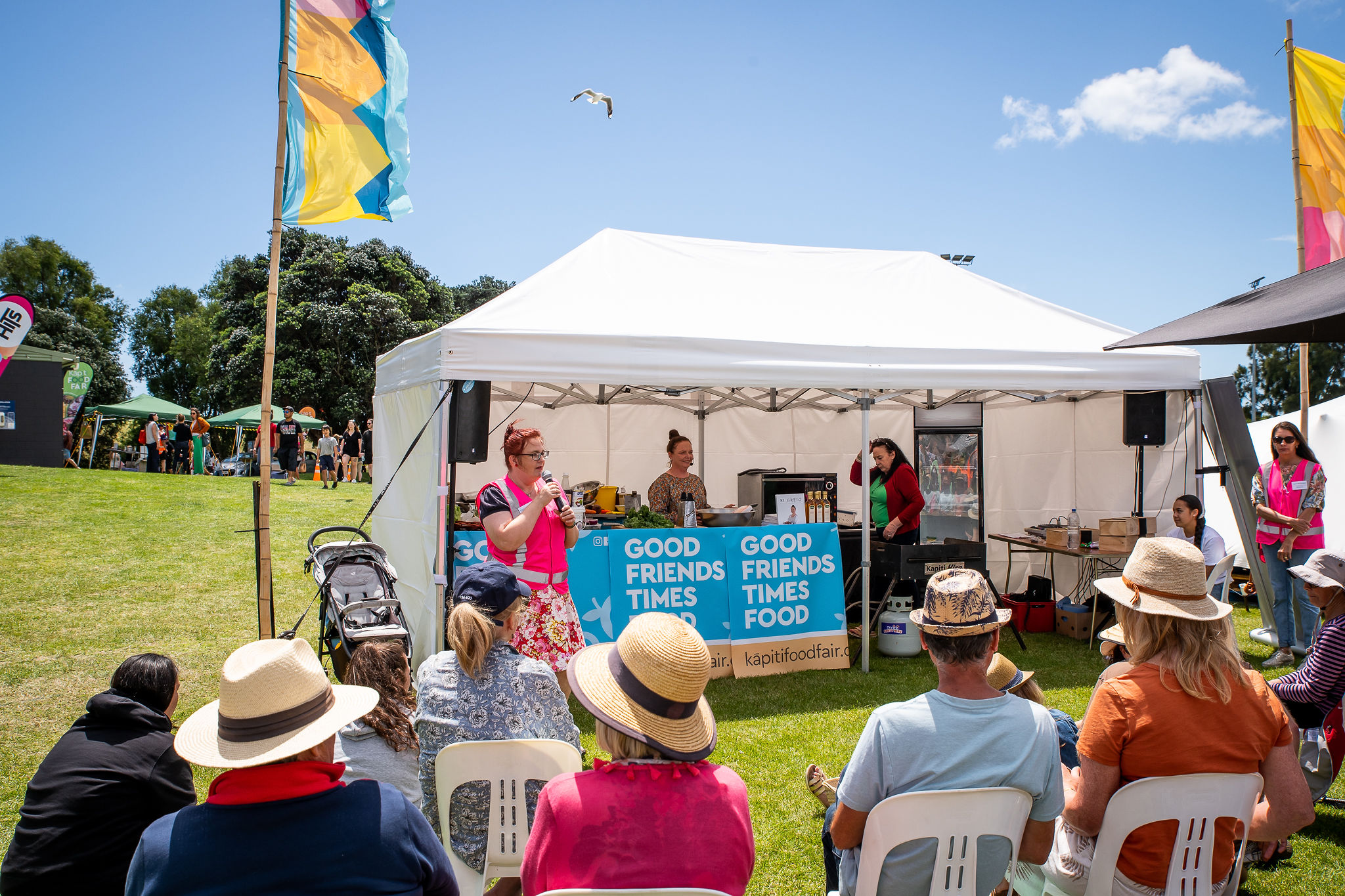 Valerie and Timo Reitnauer from We Love Local, are thrilled to hold the naming rights of the Stage. "It's a fantastic opportunity for us to support and celebrate Aotearoa's food producers, and other related products. We believe in the power of local businesses and are excited to contribute to such a vibrant event," says Valerie.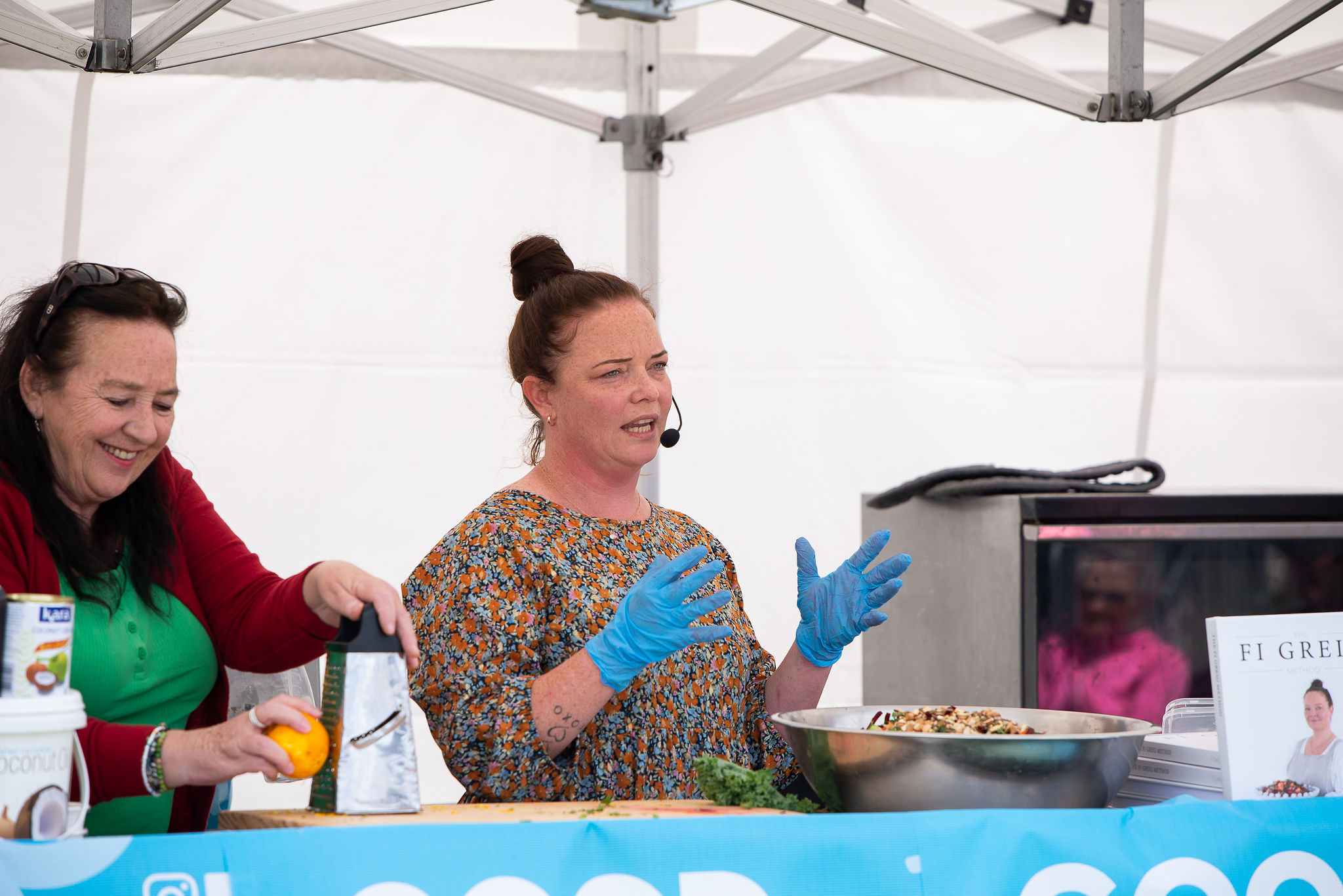 "We can't wait to see what each chef will be demonstrating on our stage," Timo adds. "We are honoured to contribute to an event that brings people together and creates opportunities for local producers to thrive."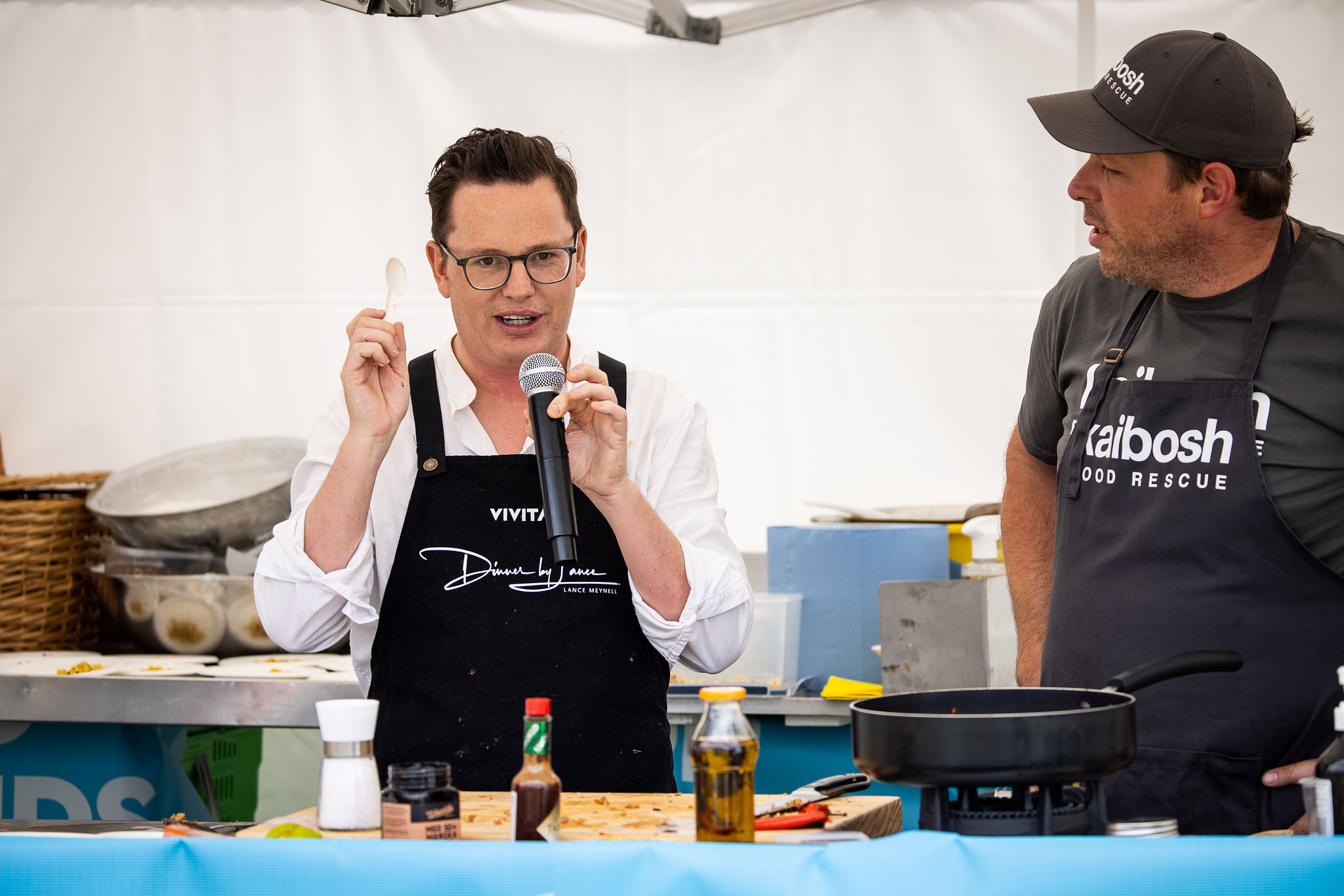 The team has lined up talented professionals for visitors to enjoy at the kitchen demonstration stage this year. We're sure the culinary masters will share some of their tips and tricks and we hope some trade secrets too!
Join us, from 11:30 AM until 2:30 PM. Demonstrations are by Fiona Greig from Sunday Cantina, El Robbins and Jack Rainey of Everybody Eats with KAIBOSH Kāpiti, and Justine Street from the Levin Chapter of Good Bitches Baking.
Bring your friends and head over to the Tuatara Stage and Bar. Here you will enjoy, good times, good food and hear good music. Sip on a Tuatara beverage or on a Dark Horse coffee while taking a load off your feet.
This year, we'll have local acts strutting the stage to keep us entertained and making memories with our friends and whānau: Tui Soul, The Caramello Blues Band, Devon Welch Music, and the Fleetwood Mac Tribute band.
Tuatara Brewing is a Silver Sponsor of the Fair, an important local partnership for us as they work closely with the Fair to set-up and run the licensed bar. "Tuatara is brewing a specially crafted Limited Release beer for this year's Kapiti Food Fair. You won't be able to taste or enjoy it anywhere else!" Helene enthuses. "It's exhilarating for us to have a unique beer crafted for the Fair. Keep following us on our social media channels for more news about this special brew – it will be a sessionable ale for sure."
Tami Neilson stars on the Tuatara Stage for the inaugural Night Gig – the support act will be Jodie & the Stowaways. Bring the whole family to rock out! Arrive at 6:45 PM; settle in on a spot on the lawn. Grab a delicious dinner from one of our exciting vendors in the Food Truck Alley. Head for the Tuatara Bar and take a seat and a brew. The evening promises to be pumping with fun, laughter, and great music! You are welcome to bring your picnic blanket or a low chair and to kick back further away from the stage.
The Kāpiti Food Fair is held on Saturday December 2nd, 2023, at the Mazengarb Reserve, Paraparaumu, Kapiti Coast. OUTDOORS RAIN or SHINE. Entry from 10 AM to 4 PM. EARLY BIRD tickets available until 8 November: $10 per adult, children up to 16 are FREE and those with a Gold Card or Student ID are only $5. (We have kept ticket prices static since before Covid).
Book your tickets here >> https://events.humanitix.com/kapiti-food-fair-2023
The Night Gig gates open on the same evening from 6:45 PM to 10:30 PM. This night-time concert is OUTDOORS and will take place RAIN or SHINE. The Food Truck Alley will serve delicious kai and the Tuatara Licenced Bar will serve libations throughout the Gig. There will be merchandise for sale from our performing artists and the Kāpiti Food Fair, making excellent Christmas gifts.
EARLY BIRD tickets for the Night Gig are on-sale now and if purchased by 8 November, are $65 Adult or $195 Family (2 Adults & 2 Rangatahi up to the age of 17), with additional Rangatahi being $35.
Book your Night Gig tickets here >> https://events.humanitix.com/kapiti-food-fair-night-gig-2023
About:
Kāpiti Food Fair was established in 2008 as a community event with humble beginnings. The Fair is now a privately owned and operated business partnership between Helene Judge and Jeanine van Kradenburg, who helped conceptualise the initial event.
Their mission is to bring visitors to Kāpiti for an enjoyable, indulgent, and satisfying day out with GOOD friends, GOOD times, GOOD food and GOOD music. Helene and Jeanine have turned Kāpiti Food Fair into a pop-up extravaganza calendar event that sees visitors returning year after year.
Contact:
Helene Judge, 027 244 9585 or Jeanine van Kradenburg, 021 605 488, contact >>